The Daphne-Norma Leadership Award is the way that our dancing community recognizes a couple or individual dancer who has demonstrated leadership for an extended period of time, furthering the cause of square and round dancing. Think about efforts that have been made over past years as well as recently.
Leadership styles vary greatly as each person is different. But going that extra mile for the sake of other dancers, and of dancing itself, is something we want to recognize.
If you know someone whom you feel stands out in their continuing service to others, please help us to celebrate and take note of them.
You don't have to know their life history. Just tell us what you do know. Most likely, others will fill in some of the information.
Every single nomination is very important, so please don't think that what you have to say doesn't matter! It boils down to: who do YOU feel should get the leadership award, and why?
Please open the forms provided here in PDF format to learn more about the Award, and to put together your nomination of deserving dancers!
| | | |
| --- | --- | --- |
| | | |
| History and Guidelines | Past Recipients | Nomination Form |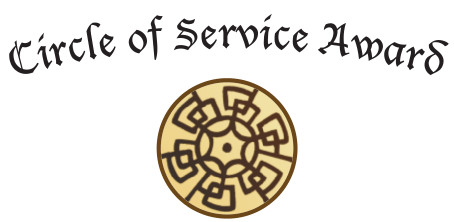 This circle is a symbol of service to square and round dancing.
It is designed to be worn with pride by dancers who, for three or more years, are determined to have made a significant contribution to the Square and Round Dance community.
The stellar hub of the circle, formed by a pattern of arcs, symbolizes the importance of each such individual to the total picture. The same circular shapes flow outward to help define interlocking squares and stylized musical symbols. This linear interplay suggests the strong bond between the two "sister" dance activities: Square and Round Dancing.
Presentation of this Circle of Service should be made to dancers only, as in "I'm just a dancer." Those presenting the Circle of Service must have themselves been the recipients at an earlier date.